ANGELS TREASURE (EXCERPT)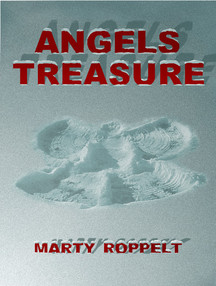 They passed the Rockefeller Building. Tom's concern and confusion grew as the pair neared the Veteran's Memorial Bridge spanning the river.

We're gonna walk all the way across the bridge? In the snow?
A few cars passed them, headed for the West Side. The traffic stoked Tom's frustration.
"We could've taken my car, you know."
A battered, rusted coupe rumbled past them. Tricia turned to Tom. "It was a GTO."
"That was an Olds Cutlass. An '87, I think. Not exactly in 'parade condition.' "
"The one I wrecked, I mean. My dad gave me his GTO as a graduation gift."
"GTO. Classic muscle car," Tom said. "A solid car."
"No air bags," she pointed out.
"Nope."
"I loved that car so much."
Tom chuckled. "A muscle car? You were always the quiet –"
"Nice girl, yeah." Tricia smiled. "That car was spotless. Cherry red, twin white racing stripes from hood to bumper."
"Ooh!"
"Oh, yeah. Dad gave me his GTO for graduating third in my class at Brecksville High. I had the accident that August, two weeks before college started."
"What did you study? I mean, what do you do? You never told me."
"I'm a counsellor."
"Nothing wrong with that," Tom said as a few more cars passed them. "I'm in real estate. Business is dead. No one lives in Cleveland any more. The ones who do could probably use a good counselor." His humorless chortle tailed off.
A question popped into his head.
Where are we going at this time of night?....



To contribute a dollar to the charity by downloading the full version of ANGELS TREASURE, visit your favorite retailer or
click here
To return to the SHORT STORIES page,
click here