the christmas angel trilogy "box set"

I wrote Paper Angel with the idea of diverse characters only briefly touching each others' lives one Christmas. How much impact can a chance encounter make? What changes when God's messengers make their presence known? When I started asking these questions, the little story turned into two more.

The Christmas Angel Trilogy - Paper Angel, Angels Treasure, and Herald Angels - can, I believe, be enjoyed individually. They belong together, though. So I thought it right to make this offer.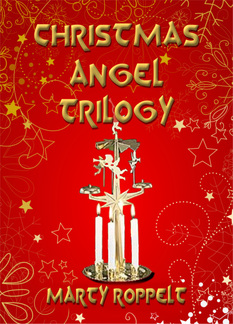 Okay, so calling a collection of eBooks a "box set" seems a bit weird. How does one "box" something that has no physical substance, a part of the ether?
In any case, The "box set," with all three stories, is available for $0.99. Smashwords.com will have it Sunday December 20 by the afternoon. Other retailers should have it soon after.

Another author's web site made a good point about how to word the "proceeds to charity" promise. Not all of the money goes there. All retailers, including Smashwords, take a percentage as commission. Different retailers take a different percentage. So, to clarify, ALL THE AUTHOR'S PROFITS will go to St. Herman House. However, for each sale, I'll round the proceeds up to a full dollar from my own pocket. The retailers will get their money, but so will St. Herman's.

Click here to enjoy this little bit of Christmas, knowing you're making a difference for some homeless folks!

---