herald angels (excerpt)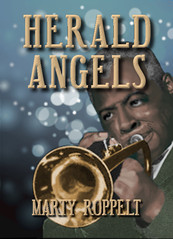 Shadows moved across the ambient light spilling from the store window behind them. Ruth turned.
Emily Kovacs, Joe's wife, waved at her. Ruth waved back. An older lady, Marta – the Iron Mother-In-Law – joined Emily. Marta's expression, a cross between a glare and a smirk, as usual, amused Ruth. Emily's face, however, suggested something odd. Fear? Worry? Surprise? Ruth reached for the knob to the shop door.
"Everything okay?" Gabe asked, as a passerby tossed coins into his trumpet case.
Ruth shrugged. She entered the store as Gabe began playing a regal "O Come All Ye Faithful."
"Hey, Ruth," Emily said. "I heard. You look... I mean, wow! How are you feeling?"
"Good," Ruth said. "You heard? When?"
"Joe texted me a few minutes before you showed up."
"Ah, right," Ruth said, turning her head toward the store Christmas tree. "Cool. Different."
"Yeah." Emily plucked a white decoration, one of over a dozen angels, from a lower branch. She gently placed it in Ruth's cupped hands. "They're paper. All of them."
Ruth marvelled at the intricate origami decoration. "Wow. When did you find the time to do this? I mean, your bakery is always busy. This is beautiful."
"Miraculous," Emily said with a sidelong glance toward Marta.
Ruth squinted. "I'm missing something, right?"
Marta chuckled. She waved a hand at Emily. "Go ahead," she ordered in an accent as thick and unashamed as András'. "She not gonna believe it."
The muffled music outside stopped. Gabe entered the store a few moments later, carrying his horn in its case. "Traffic's still jammed on the other side of the market."
Ruth introduced Gabe. Her eyes narrowed at Emily, who stood on tip-toe, ready to burst. Something was happening, Ruth realized, something mysterious – something strange.
Stranger than paying doctors to shoot me full of poison to ward off death, and living through the ordeal?
"I might believe," Ruth finally said. "Try me."
Emily sucked in a long breath. "Okay. These angel decorations aren't decorations. They weren't angels, they weren't even paper. This homeless guy came in and gave us one. We didn't make any of them...." She paused, her eyes cast down. Then she blurted out the rest...
To contribute a dollar to the charity by downloading the full version of HERALD ANGELS, visit your favorite retailer or
click here.