PAPER ANGEL (excerpt)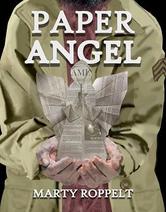 Joe gave his wife a peck on the cheek and turned to help the next customer. "How ya' doin', Tom?" Joe automatically grabbed a round, still steaming pumpernickel and a paper bag to put it in. A cream puff would complete Tom Clinton's weekly purchase.

Clinton held up his hand, though. "I'm on my way to a Holiday party. The host asked specifically for your Vienna Rye, Joe. Two loaves."

Joe blushed. Such compliments had increased steadily over the past three years. He accepted each with a pound of humility.

A cheery "chingle" and wave of winter ushered in another customer. An odor, a peculiar mixture of dust, roses, and sour old sweat, drifted through the room. A few pairs of eyes darted toward the back of the line.

The scrawny, stoop-shouldered man in back reminded Joe of an animated pile of rags. Layers of threadbare, soiled clothing draped his frame as they might a wire coat hanger. The top layer, Joe noted, was a faded army fatigue jacket. Sergeants' stripes hung from a few threads on one arm. A hawk-like nose poked out over a salt-and-pepper beard that resembled a tornado ravaged bird's nest.

An edgy silence descended on the shop. The throng parted, allowing the stranger to shuffle toward the counter.

Joe's body tensed. He kept his face blank, though. "Help you?"

"No money, sir, no money," the drifter said, his voice unsteady.

"Just buy drugs anyway," someone grumbled.

The man ignored the jibe. "Got some bread, something stale you were gonna throw out?"

Joe reached for the pumpernickel Tom Clinton rejected. "I don't do 'stale,' friend," he said, his eyes glued on the beggar.

"Hey!" Clinton said. "Come on, Joe. I'm a paying customer, and I need to settle up and go."....


To contribute a dollar to the charity by downloading the full version of PAPER ANGEL, visit your favorite retailer or
click here
.
To return to the SHORT STORIES page, click here.